This article features video reproduced with the permission of Sarah Jones. To view the video, you will need a Quicktime Player, available as a free download by clicking here.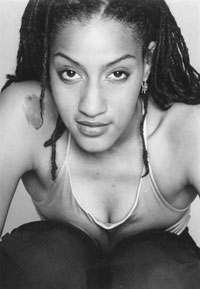 On September 12, 2002, internationally acclaimed poet and actor Sarah Jones performed excerpts from her newest one-person play, Waking the American Dream at Barnard College. A moving collage of the hopes and struggles of ten diverse immigrants to the United States, Waking the American Dream expertly portrays the victories and losses of those who arrive in America to pursue a dream so powerful it has shaped a national consciousness.
As she brought to life characters personally affected by the September 11th attacks, Ms. Jones not only reminded us just how tenuous and elusive that dream can be, but also helped us mark the first anniversary of the disaster with a moving portrait of the diversity of America.

Following her performance, Ms. Jones discussed her work in a forum with esteemed scholar and theater critic Jonathan Kalb. Together, they discussed the innovative directions in which the dramatic arts might lead us toward heightened social consciousness and activism.
To view selected portraits from Waking the American Dream, click here. The conversation between Ms. Jones and Jonathan Kalb will be available here soon.