What It Takes to Get There
This interview was conducted on June 17, 2008.
How did you get interested in going to the North Pole?
After retiring I started to look around for something of interest to do, something recreational but also travel-related. When I came across an ad to photograph polar bears in Manitoba Churchill, I quickly made arrangements to go and do it. Soon after that I was learning dog sledding, then snowmobiling. As a natural progression, I started to read about the area and its history, and learn about Matt Henson. And that's when I made the discovery: no black woman had physically been to the geographic North Pole. At first it started as a point of interest and then it began to nag at me. And so I decided that I was going to try to do it.
It's kind of astonishing that by 2007, no Black women had been to the North Pole yet. Were you always physically active?
I would say yes. Though you have to understand, growing up, there was limited money and there weren't team sports for girls like there are now. So, much of the physical activity was self-invented. I made my own scooter and I used that all the time. But there was also a feeling of accomplishment in that.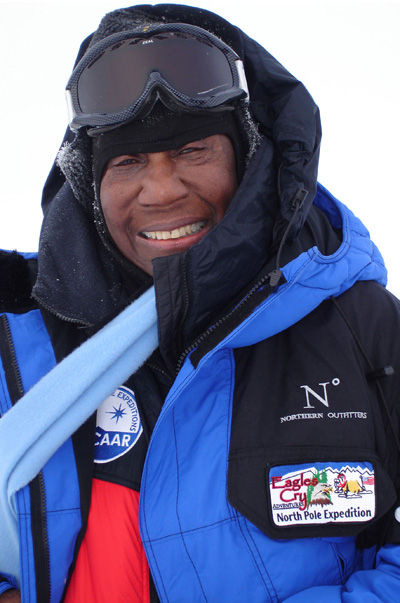 Photo: Courtesy Modernage Photo Services, NYC. © 2007 Barbara H. Hillary, all rights reserved.
Tell us something more about your North Pole trip.
I left New York City on April 6, 2007, I believe, and I stood on the North Pole on April 23. So it took approximately two weeks of travel. But the process of getting there really started when I made up my mind to go. It's a series of hell and heaven, as I like to say. The hell you catch is hour after hour of trying to raise funds, talking on the phone, not having a source of reference, tracking down information.
The process is somewhat alienating. You're certainly alienated in this area from most black people, and I was an unknown to the white world. So it was a very difficult, lonely road.
Were any black organizations or African American groups willing to support this endeavor?
Ninety-nine percent of all of the help that I have received has come from the white community.
Do you think that's a historical thing because the famous explorers we hear about growing up were mostly white people?
No, I think the black community has some soul searching to do. The message I would send to the black community is a quote from my mother, who was an incredibly intelligent woman. As she would constantly say to my sister and myself: As you go through life, make sure your own window is clean before you criticize others. If clean your window first, your neighbor's window will look a lot cleaner. In other words, try to objectively evaluate one's own racial behavior and involvement before directing criticism. It was $22,000 to get to the North Pole; that's a lot of money. I was really struggling to pull it together, and the price was constantly being increased. I asked Ebony magazine, would you be interested in a story? A resounding yes. Would you be able to help me please? No.
And I say—shame on Ebony magazine.
I could see how that would be difficult. I heard that some funding came in after the New Yorker article?
Yes. It is a sad commentary that not one major black or African American person, male or female, in the media or the talk shows, reached out to me. And when I returned from the Pole, it went out on the AP Wire; it was all over the media. I was interviewed here in New York by Sue Simmons. So I find it very difficult to believe that these talk show people did not know about the quest. And I'm not saying this because I am Barbara Hillary. If it was Jane Doe, if it was Suzie Q . . . the efforts of female athletes and adventurers are marginalized and ignored.